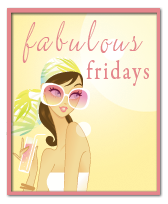 It's Fabulous Friday again!
This Friday is about Fabulous Sunglasses. I love sunglasses and used to buy them when I didn't need a new pair, I'd break em' or lose em' and re-buy em'. Complete waste of money. I found out my vision was not 20/20 a few years back and I was in fact looking at a blurry world, I wasn't aware of this until I put on a pair of glasses and realized that the lights and trees and everything around me
wasn't supposed to be blurry
. So that ended my sunglasses shopping. I bought one pair of prescription sunglasses at the same time of my regular glasses. They were practical and plain ol' ugly. They fell apart a couple of days ago... guess what that means? New glasses! Cute ones. I've been looking around and I. Love. these!
Dolce* & *Gabbana prescription sunglasses. They would go perfect with my face shape and I prefer brown over black or any other color.
This Bur*berry style was my first choice when I went into the store, but I'm not too sure now...
Join in Fabulous Friday by clicking on the button above!