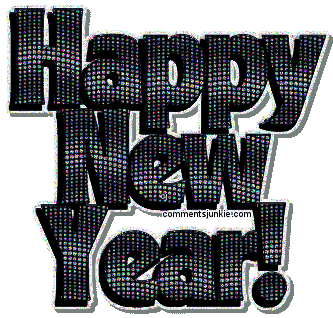 Is it just me or is everyone breathing a sigh of relief that 2008 is about to be history? I thank God, you have no idea how much I thank Him, for 2008. I can honestly say that this year has been the toughest year of my life. I feel like I got hit on every side, everything seemed to fall apart. Loved ones passing away, sickness in the family, and dark days. BUT I've made it through alive!! Through it all, I learned that my God is faithful and He truly cares for me. He was and still is moving and taking things off so that I can be the person that He needs me to be in 2009.
If I didn't go through the things I went through I would never have known God like I do. Every day He's opened me up to a new part of Him. I feel so humbled that He loves me enough to work on me and make me a better person.
I have made resolutions for the coming year, I have my "lose weight" one of course, but these are my top three. I don't share my resolutions to just anyone, but for some reason I just want to here... seems right somehow.

First and foremost - I want to trust God like never before. I want to put my faith in Him and cast all my cares upon Him. Give up control... (Lord, help me with this one! haha)
Second - I want to be a witness of Him more than ever before. I want to be used by Him to show people that this world we live in isn't all there is. We don't have to worry about the economy or the crime and evilness of the world we live in. He's prepared a place for us, where there is no worry, no fear of tomorrow. He's prepared it for all, but only those that are filled with His spirit, baptized in His name and covered in His blood will see it and "live" there forever. I want to show people that they can make it! God's word says that He desires that ALL would be saved, but He's left the choice up to us. I pray that He shines through me in 2009.

Third - I want to be content in whatsoever state I am. I pray for the blessings of God, but He knows what's best for me. He blesses me in how He sees fit to. I want to be content and not wish or want for something better all the time. Content in the life He's given me and accept every blessing from Him along the way.
Those are my top three things that I want God to accomplish in me this year. This year holds so much for us, get ready to grasp the blessing of God and look forward to what He has in store for His own.
I wish you all a prosperous and blessed beyond belief New Year!